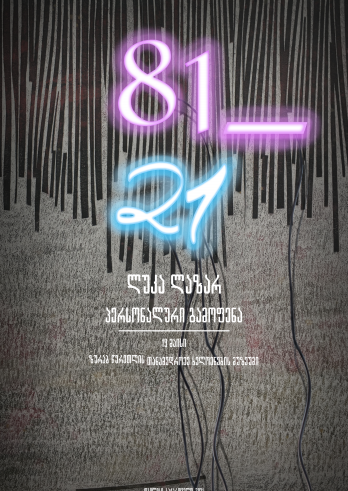 Luca Lazar (Lasareishvili) Personal exhibition 81/21
Luca Lazar (Lasareishvili)
Personal exhibition 81/21

Zurab Tsereteli Museum of Modern Art presents personal exhibition of the US based Georgian artist Luca Lazar (Luka Lasareishvili) from May 19 to June 30, 2021. With support of the Tbilisi City Hall the given show is realized as a cooperation between the Museum and Life N Style.

Luca Lazar represents the second biggest and the most important wave of the Georgian abstract painters. He has been living and working abroad since 1989, first in France and later in Germany and USA. Lazar's work unites several directions: painting, graphical work, installation, art objects. In his drawings the artist gives priority to the visionary quests and attempts to see the all-encompassing eternal universal circle from a completely different angle.

Lazar's multimedia works demonstrate social and political issues, categorical tone and present the ideas in the sharpest possible way shifting the grotesque and the irony to the foreground.

Despite the fact, that the exhibition 81/21 focuses on the period between 1981 and 2021 it is hard to call it a retrospective show. It mainly depicts several important episodes from Luka Lasareishvili's creative works, which in the context of relationship of the national art school and European/American artistic reflection from the verge of the centuries are awarded specific importance for the artist as well as entire contemporary Georgian art history in general.


Curator: Tata Ksovreli
Nana Kirmelashvili


Art critic: Tamar Belashvili


The exhibition is open: May 19 – June 30, 2021; 4pm – 7pm.